Mary Ann Thompson-Frenk

Co-Founder/President of The Memnosyne Foundation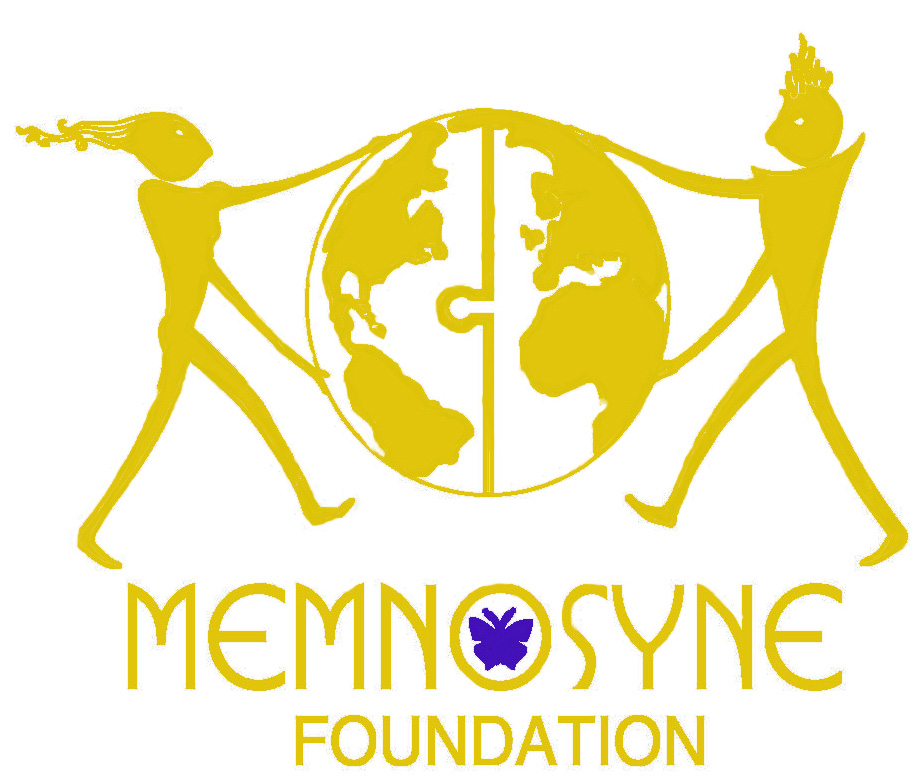 "While the current focus on globalization is on how it will affect the world economy, few are discussing how else it will continue to effect the global culture of humanity: It will effect the arts, the sciences, the spirituality, and the very ecology of our planet.

Today we are at a point between countries and cultures where we will either bump into each other, walk over each other or instead we can choose to collaborate with each other consciously and evolve humanity.  If we allow ourselves to evolve randomly, we will invite more misunderstanding, more war, and less innovation. But if we can choose to collaborate and become the conscious cultural creators of humanity's future, that future is limitless.

The creation of the Memnosyne Foundation is intended to serve the world as a means for peaceful global collaboration in all areas of knowledge."

- Mary Ann Thompson-Frenk

Mary Ann Thompson-Frenk has extensive experience with non-profit organizations, including but not limited to the following:

P.R. Chair for The Texas Visual Arts Association

Board Member of Friends of Fair Park

Hockaday Alumnae Board

Board of Trustees for The Interfaith Center of New York

Founder/Chairman of The Advisory Board For The Visual Arts Coalition Dallas

Board of Directors of Seeking New Performances

Co-Founder & President of The John Philp Thompson Foundation For

       Non-Chemotherapy/Non-Radiation treatment/cure For Brain Cancer

Board of Directors of Project Pallet

Steering Committee Member of The Suzanne Ahn M.D. Speaker Endowment

       Fund For The Dallas Women's Foundation

Advisory Board Member of The Dallas International Development Committee

Board of Advisors for Chicago's WomanMade Art Gallery

EWomenNetwork Foundation Selection Committee

Chair of The VACD's Artist In Action Gala

Head Coordinator of DFW International's Festival's Fine Art Pavillion

Chair of DFW International's/VACD's Pablo Neruda Exhibition

Chair of VIP party featuring Luca Luca fashion show in support of

       Philanthropy and Volunteerism in Education's programs

Board of Advisors for Indigenous Institute of The Americas

Advisory Board Member for The People's Empowerment Project

Speaker:

Rwanda – in behalf of Heiffer International

MC of Dallas Green Alliance Earth Day Celebration

regular guest speaker for Foundation for Pluralism

will be speaking to 300 muslim women in Malaysia in February '08

Sponsor for:

Thanksgiving Square, Heiffer International, The Sierra Club's John Muir Foundation, Environmental Defense, The Southern Poverty Law Center, Soul Force,  Texas Businesses For Clean Air, North Texas Business for Culture and The Arts, and many other worthwhile programs all focused on the arts, the environment, human rights, and brain cancer.

Awards:

ARTV Award For Best Sculptor of the Year 2005

Nominated for NTBCA Oblisk Award 2006

Philanthropy World Magazine Honoree 2006

Foundation For Pluralism Award 2007

Articles:

Other Media:

eWomenNetwork Radio "Outstanding Women" Radio Show - 2004

Earth Day Celebration - Community Television Broadcast 2004

Fox News - 2004

Channel 8 - 2004

"Many Paths, One Source" Documentary - 2005

Unity Day Celebration - 2006

Philanthropy World Radio Show - topic: "Poverty In Dallas" -  2006

ARTV Awards - HBO  2007

The San Francisco Conta Costa Times July 21, 2003 article titled, "Math and Metaphysics"

Park Cities News April 22, 2004 article titled,

"Inside the Community"

Nevada Woman November/December 2004 article

titled, "ARTV Awards"

Dallas Morning News June 15, 2005 article titled, "Tolerance to Reign at Spiritual Conference" by Norma Adams Wade.

Dallas Morning News June 25, 2005 article titled,

"Interfaith Event Grew From Spiritual Quest" by Mary Blye Howe

Philanthropy World Magazine featured Mary Ann Thompson-Frenk in 2006 article titled, "Seed Planter".

The Turtle Creek News "Q & A: Mary Ann Thompson-Frenk" written by Sally Blanton - July 2007

A brief introduction to Mary Ann Thompson-Frenk from the local and global community:

"  "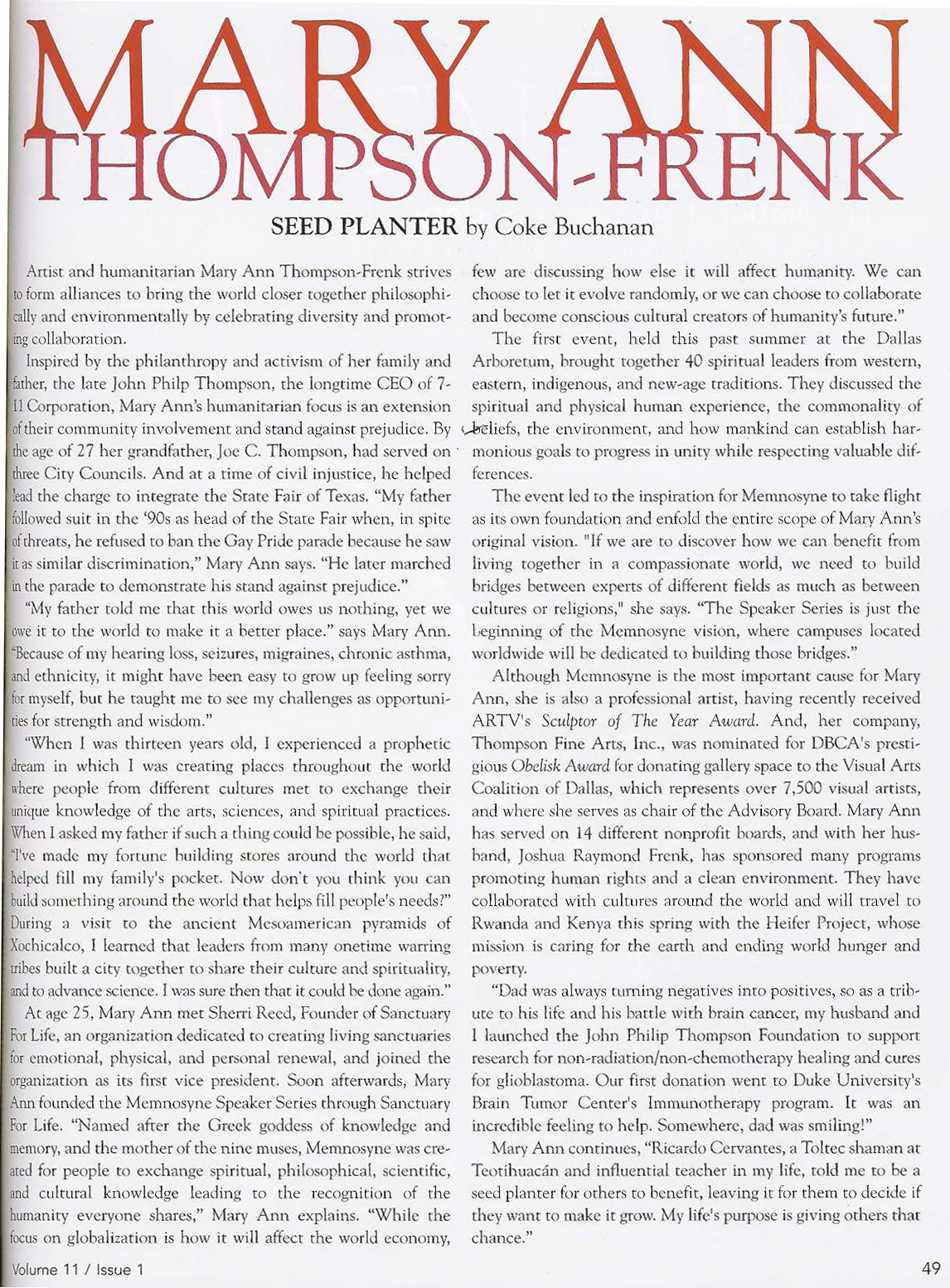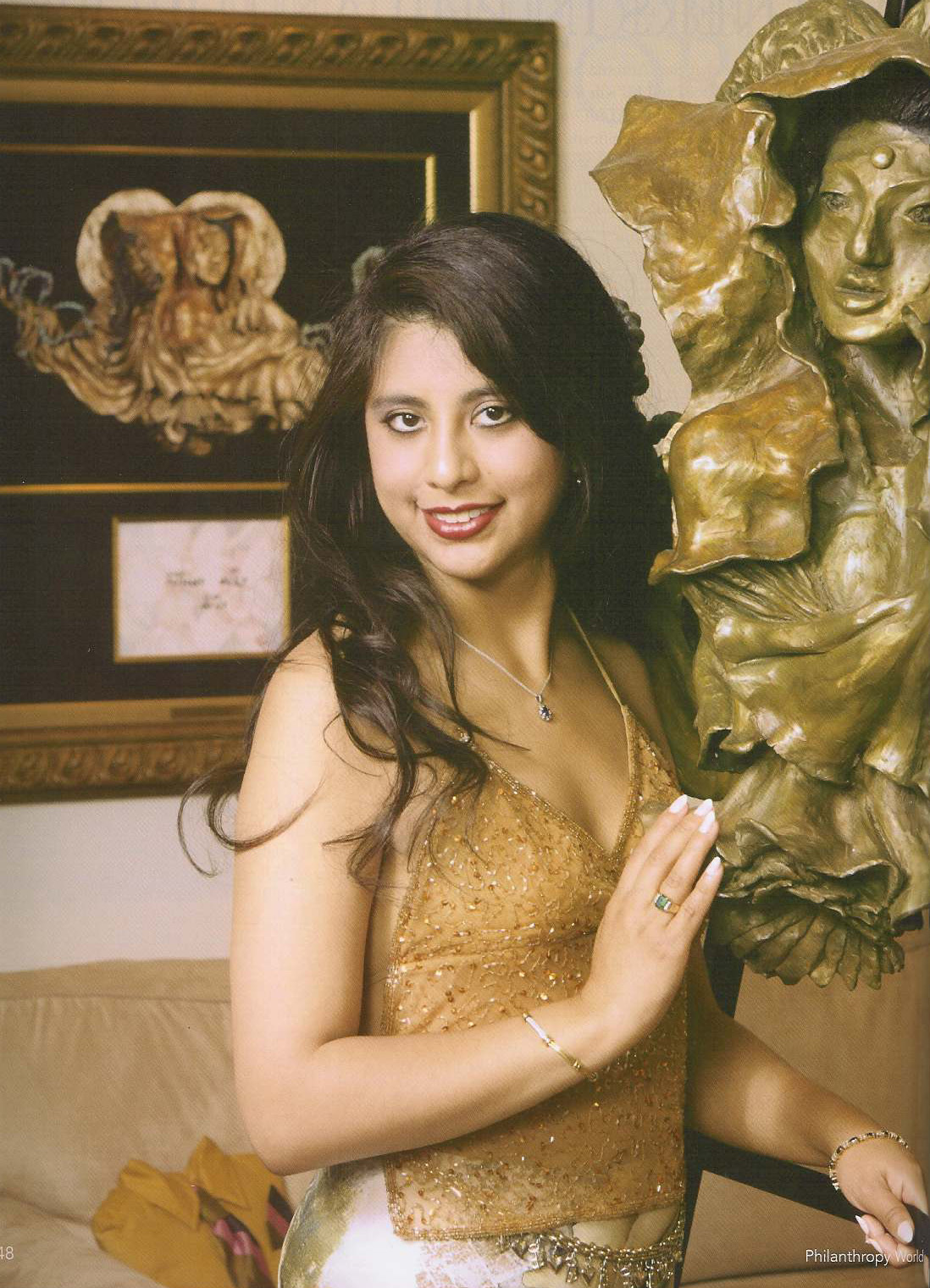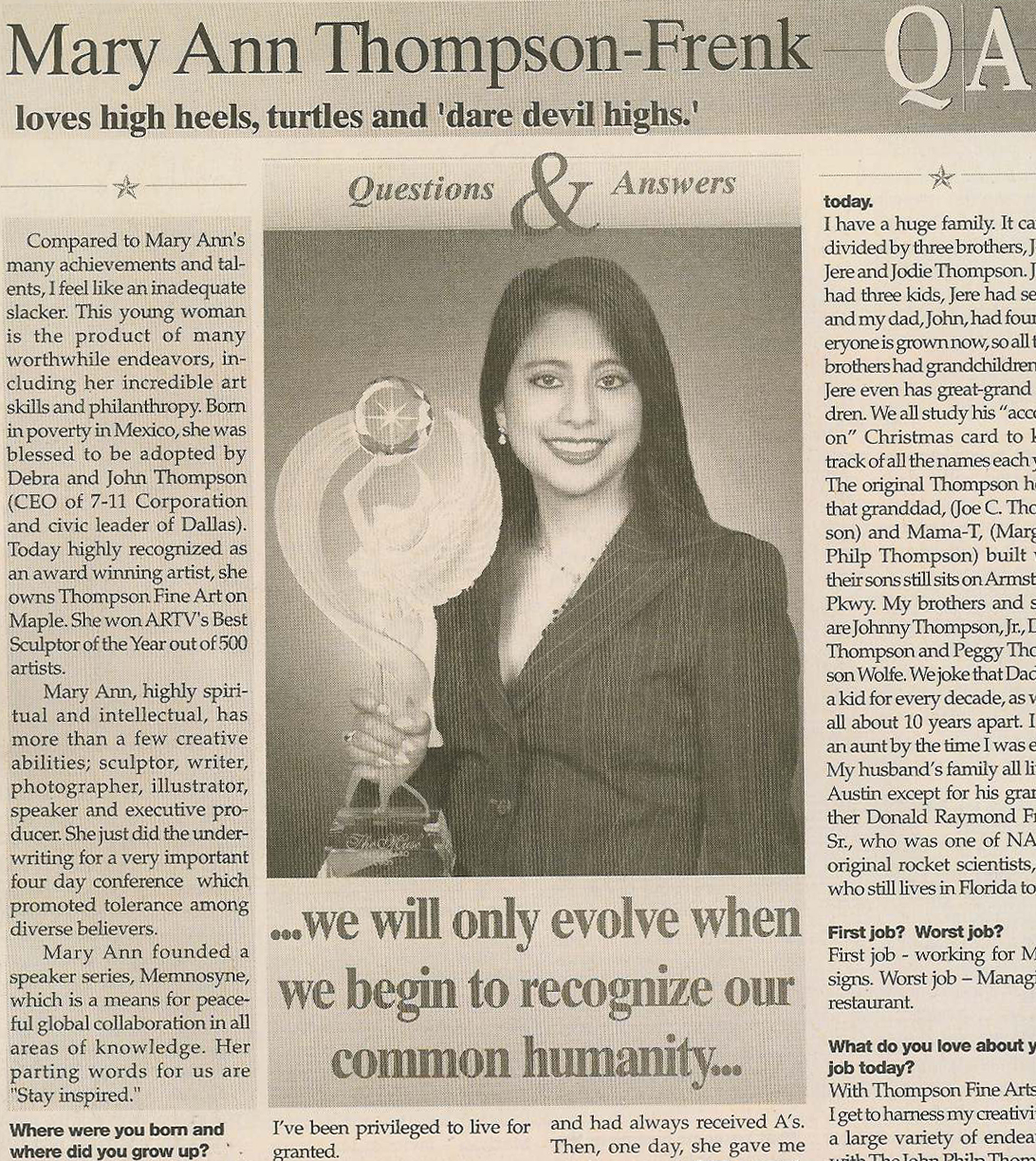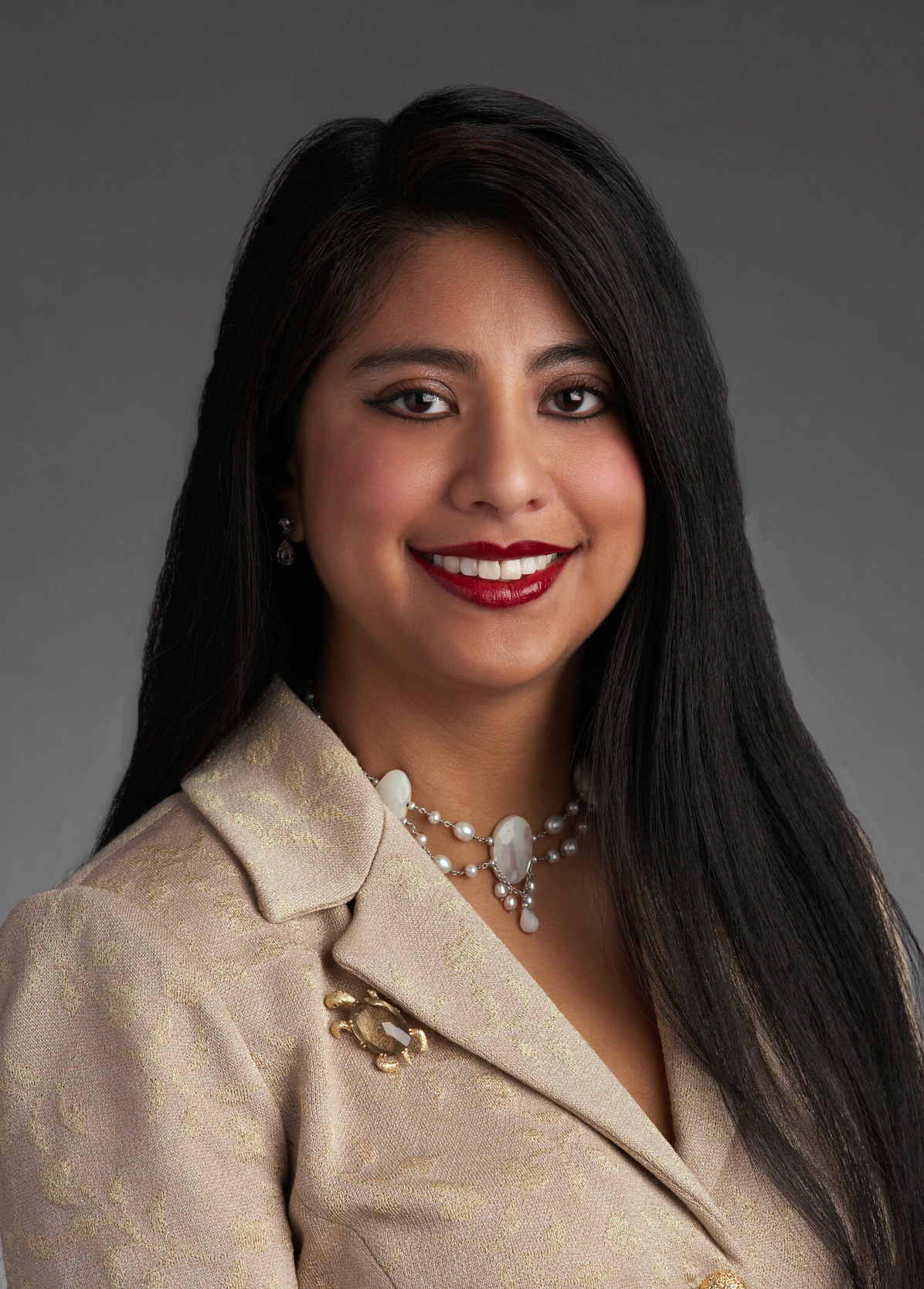 "We live in a time when there is so much distrust between those different from ourselves. Racism, religious intolerance, homophobia - all (of which are) symptoms of a lack of vision. I pray for the day we will be judged not by our skin color, gender, what gender we choose to make love to, or how we praise God, but by our integrity and contribution to our fellow man."

~ Mary Ann Thompson-Frenk

The Dallas Morning News

January 8th, 2006